New Horizons' Founder Receives Award – Coleen Taylor Honoured by Charter Schools Association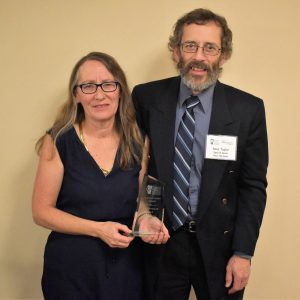 Congratulations to Coleen Taylor, the founding parent of New Horizons School, who received the Halvar Jonson Award at the Annual General Meeting of the Association of Alberta Public Charter Schools, held on Friday, October 26.
Shown here with her husband, Ross, Coleen was recognized for her pioneering work in establishing New Horizons, which was Alberta's first charter school, in 1995, and in establishing the Association of Alberta Public Charter Schools in 1996.
Read a congratulatory summary of Coleen Taylor's pioneering work here.
Read Coleen Taylor's speech in response to receiving the Halvar Jonson Award here.
Grade 3M Gets STEM Experience
Ms. Mackinnon's grade 3 class was given the opportunity to test out a new field trip with Teacher's Pet that hasn't yet been released!
They designed, built and tested marble runs using wooden planks!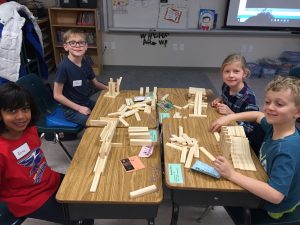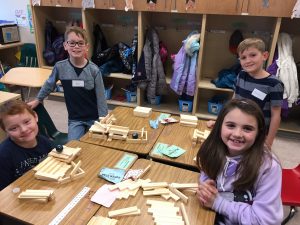 Inspiring Teacher Recognized
Imperial Oil sponsored an "Inspiring Teacher" contest for World Teacher Day  in October.  Out of 300 nominations for teachers from Sherwood Park & Edmonton, Ms. Graham had the most nominations for her inspiring work with her music program here at NHS.
On Monday, October 29, Imperial Oil representatives Luc Van Vooren, Keri Scobie, and Karen Reiter-Stecyk attended our assembly and presented Ms. Graham with a prize along with  a $5,000.00 cheque for the school. The funds will be used to support the school's music program.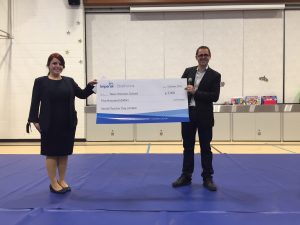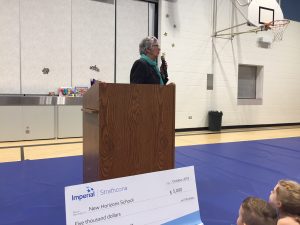 Also present at the assembly was Annie McKitrick, MLA for Sherwood Park and Parliamentary Secretary to the Minister of Education. She extended congratulatory remarks to Ms. Graham and to all teacher who inspire youth.
As a part of the assembly, Ms. Graham arranged a surprise flash mob that involved all the students at the assembly. The flash mob was led by students Claire G., Isabelle R., Meadow H.,  Eva D. and Lauren A.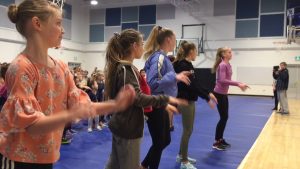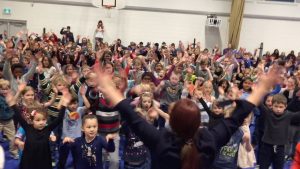 Halloween at NHS
On Halloween Day, students and staff dressed in a variety of costumes ranging from spooky, to funny, to charming. The day began with a costume parade that ended  in the gym where we could all see the array of costumes.
In the afternoon, Mr. Loehr and his Leadership class students held a carnival for the elementary students. A big thank you is extended to Mr. Loehr and his Leadership students!