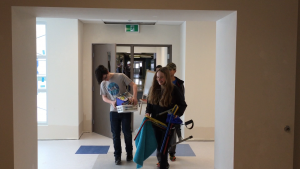 For the last two days, students have been involved in our move from the old wing to the news wing, and from spaces that are up next for renovations to temporary locations.
During parts of the two-day move, students became involved by helping to move light items while a moving company moved the larger and heavier items after school and in the evening.
The new grade 1-3 classrooms are now being used for instruction, although it will likely take a few more days for everything to find its proper place.
Some items remain to be completed such as getting heat into the hallways – but the classrooms themselves are cozy and warm! The renovated spaces in the northeast corner of the building are also getting some finishing touches.
Interested in a Tour?
As previously advertised, we will be giving interested parents a tour of the new spaces at the following times:
Wednesday, March 8 at 3:45 p.m.
Wednesday, March 8 at 6:30 p.m. (before the Board meeting)
Thursday, March 9 at 6:30 p.m. (before the School Council meeting)
Phase II
Starting tomorrow, work on Phase II will begin. The staff room, washrooms, and learning commons along with the adjacent classrooms will be getting a face-lift. The bulk of the work will be done in the learning commons where clerestories are being built to bring in natural light and the infrastructure for a living wall is being installed. Other changes include a new carpet and a modified ceiling.
Phase II is expected to be completed later this spring.