On Wednesday, January 18, the girls Nighthawk Basketball team celebrated their first win since joining the Elk Island Catholic Schools basketball league last year.
In a fast-paced game, the Nighthawks took an early lead and kept it to the end resulting in a 28-16 victory over the Holy Spirit Heat B team. Congratulations Nighthawks!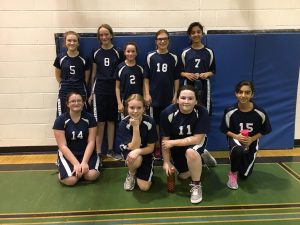 The boys Nighthawks basketball team also had a solid win against the Holy Spirit B team on Thursday, January 19. Like the girls, the boys team established an early lead and after the four quarters won with a score of 64-11.
Congratulations to both teams. Go Nighthawks!